Selaphi's Commission Info
Anime Artist // Graphic Designer
Commission Status: OPEN
Terms & Conditions
Paypal invoice will be sent upon agreement.
Payment required up front before I will begin working.Be clear and concise. You cannot have enough references for me to go by!Turnaround time varies from a few hours to a few days up to a week depending on workload.Work is for personal use only unless previously discussed.Work will be posted to my social media unless discussed otherwise. You may remain anonymous when posted if you wish.If you wish to utilize it in graphics such as an Avatar, a Twitter Banner, or a website layout credit me somewhere and that is fine. Please do not trace or edit my art.Please do not publish or upload it elsewhere without permission.Refund Policy: Once started, if for some reason you absolutely must cancel, you waive 50% of your initial payment. If I have not started yet, out of courtesy I will refund the full amount. Please use this only in emergencies.
Commission workflow is as follows:
Rough Sketch, Finalized Sketch*, Lineart
Flat colors, Shading, Final Flourishes
*Once we reach this step, any changes to pose/composition will be extra.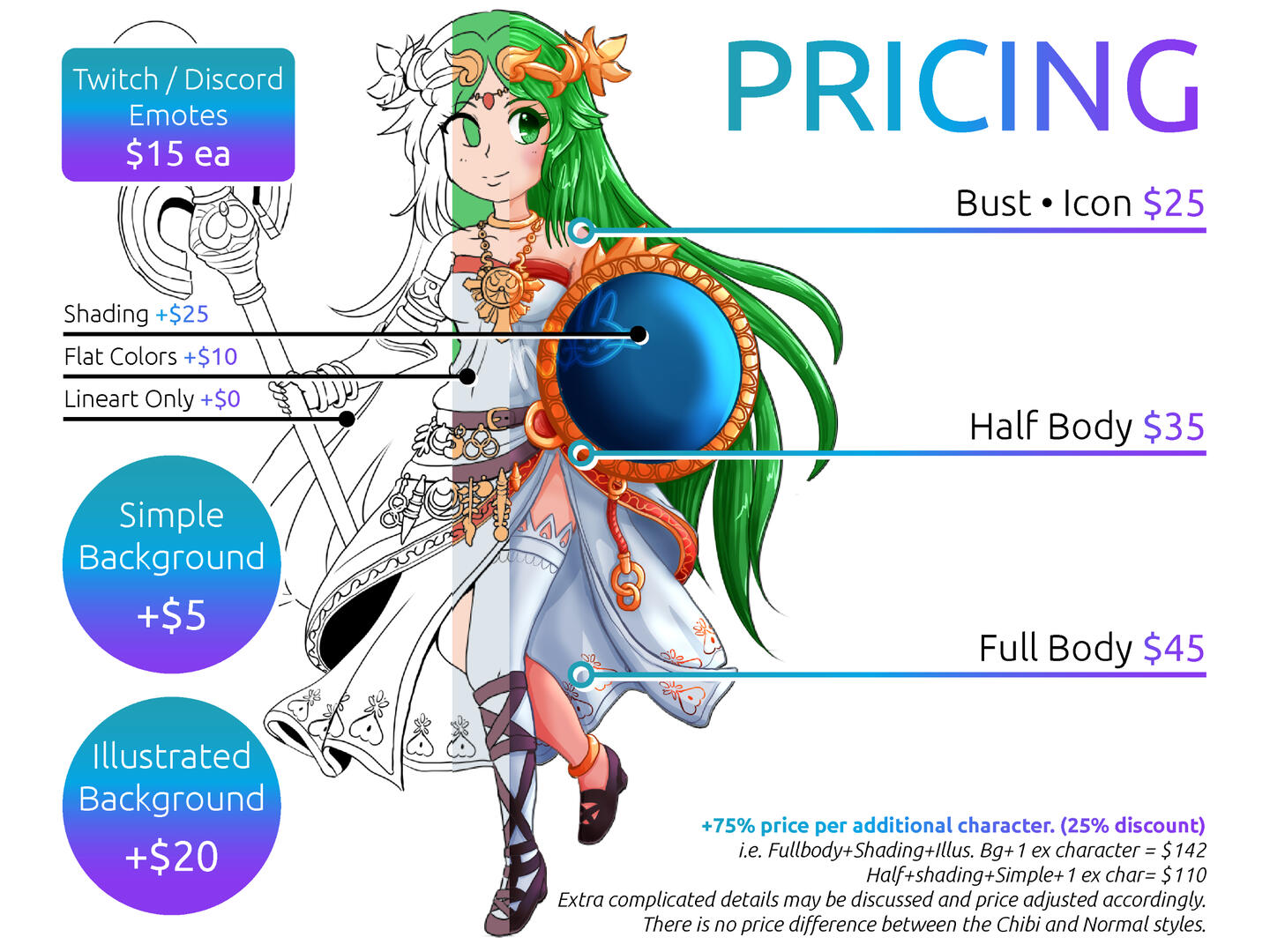 Examples
how to order
You can contact me on Twitter through dms, discord @ Selaphi#8370
or send me an email with the following information:

Your name / Online Handle
Email / Paypal Address
What exactly you want:
Bust/Half/Fullbody | Lines/Flats/Shaded | Chibi or Normal | How many characters and a description or references of your character(s) including but not limited to color scheme, outfits, personalities... Basically anything that can help me capture them! If you've got a pose, mood or composition in mind, let me know, otherwise I will do what comes to me.
If you want a background or not, if so, how complex, etc.
If you do not specify I will leave it transparent. If you just want a colorful flourish or a full scene.
Art (c) Selaphi